WEEKEND is pleased to present Extinction Burst , an exhibition of paintings and works on paper by Los Angeles based artist Carlson Hatton.

In this exhibition Hatton presents works that are a bricolage of multiple sources. Taking from design, fashion, art history and popular culture, Hatton utilizes varying techniques to construct a web of conflicting forms and reference points that are simultaneously beautiful and dark, sexually charged yet transcendent, and subtly humorous.
The layering created by the diaphanous fields in Hatton's work often dissolves figure and ground, signaling a visual denouement, where images collapse and coalesce into a pulsating plane or event horizon, then expand with illusory effects that deconstruct their source material in revelatory ways. The result exposes a rich, brightly hued world that glows above, below, or perhaps in between the everyday iteration of forms.
In the end, Hatton's works speak to the extinction of imagery, or at least the end of our capacity to process it all in a meaningful way. While this situation at first may seem to be negative or depressing, the images Hatton has created say otherwise, offering up a psychically charged cacophony of forms that exhibit all the power and force of a focused creative mind.
Carlson Hatton Lives and works in Los Angeles and received a BFA from the Cooper Union in NYC. He moved to the Netherlands for a post graduate program in Amsterdam at de'Ateliers studying under Marlene Dumas, Georg Herold and Jan Dibbets. He then completed a 2 year Laureate program at the Jan van Eyck Academie in the city of Maastricht. Hatton has been included in exhibitions at de Appel Arts Centre in Amsterdam, The Bonnefanten Museum in Maastricht, the Torrance Art Museum, and has an upcoming solo exhibition at the Pete and Susan Barrett gallery in Santa Monica College where he currently is a full-time professor of art.
CARLSON HATTON: EXTINCTION BURST
October 5th - 28th, 2012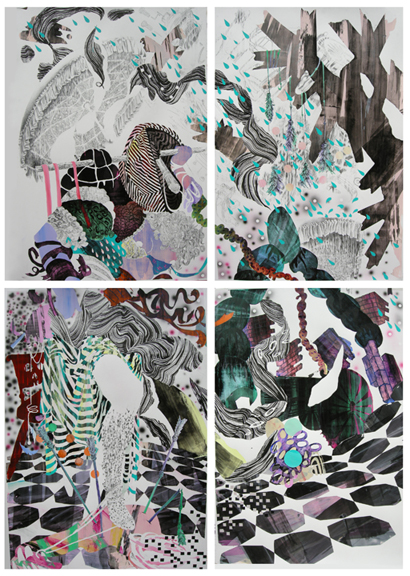 Extinction Burst, acrylic, graphite, and ink on paper, 64 x 90 in