WEEKEND is excited to present Drift/Gather, an exhibition of multi-media works from artist Jon-Paul Villegas.
In Drift/Gather, Jon-Paul Villegas's 1st solo show at Weekend, the artist continues his humorous, oneirically empirical investigations into the weird spatial latticework of twenty-first century visual culture. Through the implementation of an array of interwoven feedback loops spanning three distinct geographical locales (his former studio in Brooklyn, NY, his current studio at an artist residency in Roswell, NM, and the gallery space at Weekend) the artist has pieced together a clastic meditation on the idea of location both as a basic component of spatial and sculptural inquiry and as a touchstone for a longer conversation about the increasingly nomadic nature of our own contemporary notions of the self.
Subjects broached by the project include a series of invented geologies involving reverse-engineered rocks and digital petroglyphs, the ecology of empty lots, and various other psychedelic folk taxonomies cobbled together from first-hand investigations of thrift stores, estate sales, state park restrooms and crumbling roadside attractions across the country.
A documentation/digital elaboration of the sculpture entitled A Primer on The Common Haloes (commonhaloes.com) ties the project together as one distinct piece through its virtual location on the web, collapsing several years, thousands of miles and hundreds of pounds of matter into a single web domain to be continuously updated and folded back upon itself for a period of one year. The website will be launched concurrently with the show's physical opening on Friday, January 6th.
Jon-Paul Villegas received a BA in American Studies from Stanford University and an MFA in sculpture from California College of Arts and Crafts. He has been included in various group and solo exhibitions in San Francisco, New York and Los Angeles.
It Shits on the Eyes, Mixed Media, 2011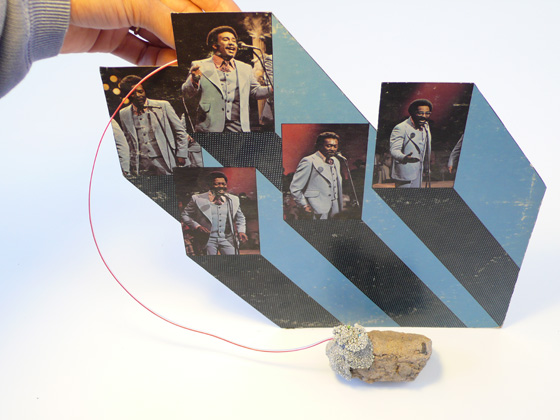 JON-PAUL VILLEGAS
Drift/Gather
January 6 - 29th, 2012
Opening Reception
January 6th, 7-10 pm