Ouspensky Sky, 2012, oil on canvas, 26 x 24
WEEKEND is pleased to present Cultivation of Randomness, an exhibition of abstract paintings and works on paper by Los Angeles-based artist Tim Forcum. The work in the exhibition is a culmination of Forcum's many years spent developing his own language of abstraction, a language which utilizes line, negative space, and swaths of color to create depth and relationship.
The line work is human and energetic, swirling over the pictorial space in a determined yet circuitous fashion. The psychophysical effect of the gestural mark making and both frenzied and tranquil compositions included in the exhibition, in conjunction with the spatial relationships created by the interaction of the line-work and fields of color, is a byproduct of Forcum's interest and influences. Rather than rejecting the onerous history of abstract painting, Forcum uses it as a starting and mid-point by which to contemplate his own ideas of abstraction, and the imagery inherent in modernist painting. Taking cues from such artists as Hilma af Klint and Lee Mullican, Forcum uses these sources to explore contemporary methods of abstraction, concentrating on the method rather than the message.
Ultimately, Forcum's philosophical meanderings are secondary to the visceral experience of his paintings. The overall effect is a confluence of loose composition and studied abstraction that is dense and expansive, playful and pondering, tentative and sure.
Tim Forcum was born and raised in southern CA and lives in Los Angeles. He received an MFA from Cal State Fullerton and currently teaches fine art at Cal State Northridge. He has exhibited extensively in Southern California as well as nationally and internationally.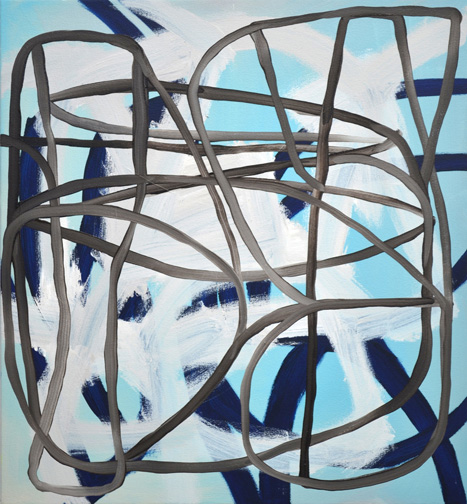 TIM FORCUM :
CULTIVATION OF RANDOMNESS
May 4th - May 27th, 2012

Exhibition Views